The Slot Machine is a continuous, articulated gondola car with sections 33 feet long between two-axle trucks. The floor is 8.5 feet wide, and the side walls are 40 inches high for the full length of the train. The walls are furnished with sliding joints to allow the train to go around curves.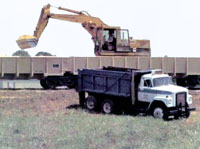 The Slot Machine is loaded from the top like a gondola. It is capable of carrying a shovel on tracks, which can travel the full length of the train, unloading the payload over the side. The unloader is crawler-mounted and travels on the floor of the Slot Machine with grousers on its track pads engaging slots in the floor for horizontal thrust. The shovel not only unloads material from the Slot Machine at its destination but it can also load material into the train for back hauls and disposals at another location After unloading, the shovel is then available to unload additional rail cars that may be at the site.
The Slot Machine has been thoroughly tested for hauling various commodities. It is fast and efficient for short hauls of rock, aggregate, gravel, sand, wood, chips, iron ore, broken concrete or most other bulk material.
Designed as a sprint-type unit, the Slot Machine's capacity is expandable by adding additional units to the consist. A drop-end gate allows the unloading machine to pass between separate units.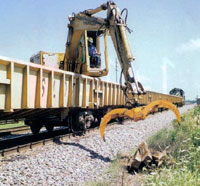 The Slot Machine is the perfect tool for installing panel track to provide immediate rail access. Over 1000 ft. of both curved and straight panel track fit easily in the super long "continuous car". At the construction site, the Cat 215 lifts the panel track from the Slot Machine and places it in position to be bolted together. New track access can be installed at the rate of 200 ft. per hour.
Put the Slot Machine to work for you. Call Georgetown Railroad to find out how years of short-line railroad experience can solve your materials moving problem. 512-863-2538.